Refuge d'Asinao
Aiguilles de Bavedda
These remarkable mountains are the highlight of this section, pink granite and larriccio pines.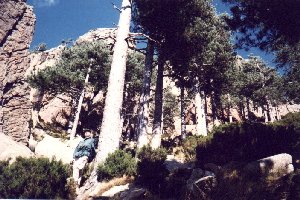 The standard track sidle the west side of the range. A more strenuous option to this track is over passes, high through the pinnacles.
Refuge de Paliri

Between Refuge de Paliri and Conca, the landscape is a gentle area of Bavedda like needles, shorter but not less pretty.